"SAW II" REVELATION (SPOILER ALERT!!!)
Don't want to rain on anyone's haven't-seen-the-movie parade, but there's a huge surprise at the end of the "Saw" sequel:
The killer from the "Saw" movies...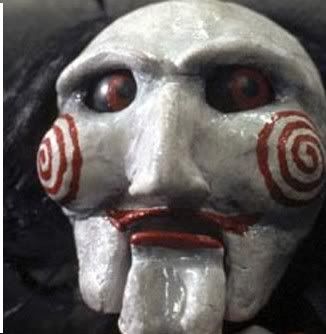 ...is the mascot for the Jack-in-the-Box fast food chain.
Apparently, he's killing people because he's angry that Sonic is cutting into the market of fast food places that advertise but don't actually exist, a market that ol' Jack (Saw) used to have cornered. If you haven't seen the sequel, I'm sorry to spoil it for you, but the good guys defeat the killer twenty minutes in and the final hour-fifteen of the film is them driving around unable to find a Sonic. The movie then ends with the killer's chilling laughter fading into the credits while a Type O Negative cover of "I Saw Her Standing There" plays (and they scream the word "saw" every time it comes up).
Bet you never SAW that one coming.